Working and undertaking internships abroad
Working and undertaking internships abroad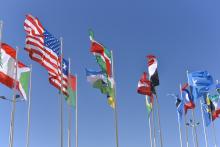 The Cosp provides two types of orientation services for students wishing to do an internship or work abroad:
Individual advice at the career desk
Job and internship board
Getting an internship abroad
Ten online sessions dedicated to our students and recent graduates on how to find an internship abroad.
The meetings will take place between February and June 2021 on the Teams platform, and will be organized by Bernd Faas, Consultant at Eurocultura - International Mobility.
To join: go to the meetings presentation page > Select the meetings of your interest and register.
Registration is required for each individual meeting, and opens about 20 days before the meeting date.
Individual advice at the career desk
Notice
Career services will resume asap, subject to public health and safety provisions introduced in response to the COVID-19 emergency.
During the suspension period, you can have an online meeting on Teams, the distance learning platform made available by the University to all its students. To schedule an online meeting, email placement.aziende@unimi.it, specifying your name, surname, and mobile number, as well as the meeting subject (CV review, etc.). Our operators will contact you by phone to schedule an online meeting.
The interviews, lasting 30 minutes, will take place every Wednesday afternoon, on reservation only. The service is reserved for our students and recent graduates.
The system allows you to see available dates and times over the next two weeks.
To book an appointment: access InformaStudenti with your University credentials and select "Placement Office - Career services".  
At the Cosp (via Santa Sofia 9/1) you can meet an operator who will brief you on:
job and internship opportunities abroad;
CV in English and the main CV templates used in European countries and in the US.
Please note that you need to be proficient in the language of the country where you intend to work or undertake an internship.
For further information:
phone: 02 503.12115/12805
Book an appointment at:
InformaStudente
​​​​​​​Job and internship board
The board features job and internship offers by companies and public institutions.
You can filter job and internship postings by country (please note that for a country to be displayed, there must be at least one posting).
To view the online board, you can use the direct link in this page o UNIMIA - Stage and Placement page (log in using your university email address and password).
If you have updated your CV online, you may be contacted directly by the companies interested in your profile.