Job Fair and Recruiting Day
Job Fair and Recruiting Day
Preliminary meetings for students and graduates
Join our preliminary meetings on November 3-13, and find out how to write and effective CV and prepare for the Virtual Job Fair, the annual gathering with the world of work proposed by the University of Milan.
University Job Fair
The University Job Fair is an opportunity for employers and prospective new hires to meet and network. Students and new graduates who are about to start a career will get a comprehensive picture of the world of work, its  dynamics, and job seeking strategies, while companies looking for talent may find the most suitable candidates for the positions available.
HR managers and recruiters are just a few of the key players exhibiting at the Job Fair.
This is also a chance to attend orientation workshops and seminars, learn how to write an effective CV, and get expert feedback.
2020 Edition
Virtual Job Fair
An entirely online event, with free admission.
The University offers companies at the Job Fair a platform with customizable company pages to receive applications from students and graduates in their respective fields and to communicate with them. 
Each company has a live chat to meet students and graduates in the "live" days on November 23-27.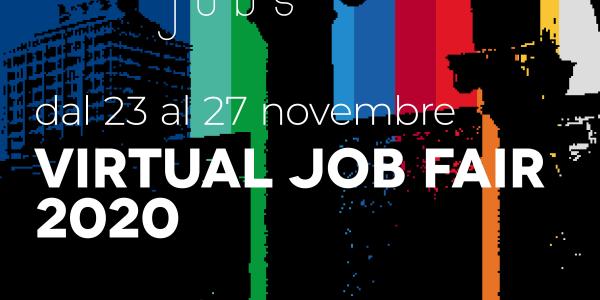 How to join
The application window for companies to join the University Virtual Job Fair is closed.
For more information write to lastatale.jobs@unimi.it
Recruiting day at the University
Recruiting Days are a chance for employers offering internships or job opportunities to meet with our students and graduates. This event always includes pre-selection and selection activities which take place at the University itself.
Suggest a date for your own recruiting day at the University by sending us an email containing details of the internship and job opportunities you are offering and the educational profiles required. COSP will evaluate your proposal in collaboration with reference professors from the relevant disciplinary areas.
Guidance meetings
Aimed at students and graduates, the guidance meetings are a perfect opportunity to learn how to look for a job in the most effective way and get to know more about the career opportunities a particular degree can lead to. In 2018, more than 5,500 students and graduates of the University took part in guidance meetings.
Companies, organisations and associations can take part by sending along professionals and experts in recruitment and human resources management to participate in training events focusing on relevant topics, or invite graduates who have successfully secured a post within their organisation to come along and give first-hand accounts about their own experience.
Please contact us for more information and to suggest how you would like to collaborate with the University at one of our guidance meetings.
Events held at companies' premises
Companies interested in holding meetings and recruitment events involving students and graduates of the University at their company premises should email COSP with their suggestions, at least one month before the date planned for their event.
Interested companies can also get in touch with us to promote any free training courses or particularly important recruitment and selection programmes.